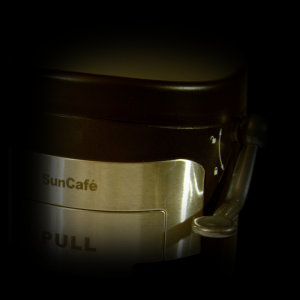 Single serve coffee is all the rage right now in the coffee industry.  While we all would like to get a specialty cup of coffee every morning at the corner coffee shop, it has become a luxury that many cannot afford.  Spending several dollars or more each day on a cup of coffee can really add up over time.  Because of this, in-home single serve coffee makers now make up the largest segment of coffee makers sold.
Coffee drinkers can enjoy having their coffee one cup at a time so it's always fresh. And, you no longer have to brew an entire pot that may end up being thrown away.
Generally, single serve coffee makers come in two varieties.  The drip maker variety brews coffee like the bigger, traditional coffee maker but takes up less space as it brews just one or two cups of coffee at a time.  The pod system uses an all-in-one filter and coffee "pod."
The pod system is the newest addition of the single serve coffee makers.  The coffee pod is inserted into the machine, you press the button, and within a couple of minutes you are enjoying a freshly brewed cup of coffee in your favorite variety.  The coffee grounds are sealed within the pod and the brewer extracts the optimum flavor.  You get a coffee that is of fresh roast quality with instant coffee speed.
While the single serve pod coffee system only brews one cup at a time, most have a water reservoir that holds up to 60 ounces of water.  The pods for single serving coffee makers come in a variety of strengths from mild to dark roast.  There are also flavors for every taste which will be sure to please the next time you are serving coffee to your guests.
If you are thinking about buying a single serve coffee maker there are some things you will want to consider.
If you like to wake up and have a fresh cup of coffee waiting for you, a model with a programmable feature is important.
If you will be serving coffee to guests you will want a single serve maker that will keep the water hot, so the brewing is instant whenever you need another cup.
Look at what types of prepackaged coffee pods are available for the single serve coffee maker you are considering.  Make sure there are plenty of flavors and blends to suit your needs.
If you will want to use your favorite travel mug you will want to buy a one cup maker that will have room to fit your mug underneath.
If your tap water doesn't taste good, you may want to consider buying a machine with a built-in water filter.  Good water is important to a better tasting cup of coffee.
If you are looking for no-fuss preparation and cleanup and a great fresh brewed taste every time it may be time to join in on the single serve coffee at home popularity.  Take the time to understand what is available in one cup makers to choose a model that will fit your lifestyle and budget.  It will pay off with many mornings of enjoying the convenience of specialty coffee from home.